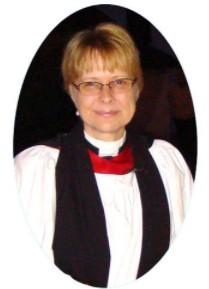 To be a growing church, God's gift to the community
OUR RECTOR WRITES …
Dear Friends
How are the embers of your love for God doing? Are they burning brightly in the oxygen of the Holy Spirit or are they being kept barely warm smothered in an insulating coat of ash?
God has been stirring up in me a hunger. A hunger to know God better, a hunger strong enough to push me out of the comfy rut in which I have been keeping just warm enough. A hunger that is forcing me to acknowledge that I need to stir myself, or allow God to, not so that I might be a better priest
but for my own sake and salvation. It is so very easy to get on with the "stuff" of church and to inadvertently forget what is at the heart of all that we are, that heart from which our actions are fuelled if they are not to become life sapping.
At a point of time when the church itself is having to assess in what shape it is going to survive perhaps, we could take the opportunity to pause and ponder. Has God been knocking quietly at the door of our hearts asking for admittance whilst we have been so involved vacuuming or DIY that we have failed to hear?
It is a fact that the church needs willing and active folk to enable it to keep the physical structures and mechanics of the organisation going, keep the show on the road if you like. However that is not the purpose of relationship with God who is not primarily interested in what we are doing but profoundly interested in growing and deepening a relationship with us.
What stops us? I cannot speak for you but some of the things that stop me are laziness, inertia and fear. Just as when in a bath that is not quite warm enough one might not want to get out into the cold bathroom I am more or less comfortable in my cocoon of ash and I am also a bit afraid God will ask more of me than I am willing to give. However, as I said, the hunger that God is stirring up in me is getting stronger than the inertia and fear. As it says in Hebrews* there are clouds of witnesses around who are living proof of the life in all its fullness that God promises each of us and I want more. I want this fullness of life, a life that once I knew and has since become a bit smothered in the ash of living.
God promises that those who ask will receive and those who seek will find, so I am going to go forward expectantly. With God's grace I will shake off the ash and continue the journey or race that currently resembles an endurance marathon more than a sprint and see where God is leading.
The Church is you and me, the body of Christ, and to be healthy and vibrant we need to be attached both to each other and fundamentally to God, the heart and life force of the body. Are you up for this, for the next stage of the adventure with God? I think it is going to be exciting! Shall we go together? *Hebrews 12: 1-3
God bless you.
With love … Noelle x
------------------------------------------------------------------------------------------------------------------------------------------------------------
STREETS TO BE PRAYER FOR:
30th May – 5th June Chelmsford Road
6th– 12th June Churchill Close
13th– 19th June Clare Mews
20th– 26th June Coles Close, Abigail Court & Finch Court 27th June – 3rd July Cripsey Avenue & Cripsey Court
-------------------------------------------------------------------------------------------------------------------------------------------------------------
FROM THE REGISTERS:

Baptisms / Confirmations:

Weddings / Renewal of Weddings Vows:

Funerals: Maureen Piper – St. Martin's – 07.05.2021;

Olive Glassington - St. Martin's – 17.05.2021

Internment of Ashes / Memorial Services / Cremations:

At the moment I am the only person doing flowers in church due to several other parishioners deciding they cannot carry on any more

I am happy to arrange flowers for anyone who is celebrating a special birthday, anniversary or similar However the ' flower fund" is now empty so if you would like an arrangement done please contact me on the number below or by email: This email address is being protected from spambots. You need JavaScript enabled to view it. The cost is roughly £15 - £20 for an arrangement.

If I don't hear from anyone, then it will be Harvest before we have anymore flowers in Church.

Gill Richardson (Tel: 01992 523071)
-------------------------------------------------------------------------------------------------------------------------------------------------------------
Shirley writes...

As we approach the summer months, the Monday Morning Zoom Bible Study group has decided to have a break, with the hope that they will be able to reconvene 'face to face' as they did pre-Covid in the Autumn.

However, I'm continuing to lead a BCP Morning Prayer service via Zoom at 10.30 am on Sunday mornings for those of us unable to attend St. Martin's at present and new folk are always welcome. Just send an email to me at This email address is being protected from spambots. You need JavaScript enabled to view it. for the appropriate link.
-------------------------------------------------------------------------------------------------------------------------------------------------------------
THANK YOU … from the bottom of my heart!

Well, I write this final piece for the Newsletter after just having had my last service at St. Martin's – a wonderful service full of blessing (and tears!) Indeed, as I said to those who were able to be in church this morning, unfortunately the flip side of love is having to say goodbye ...

But I take with me so many wonderful memories, that will continue to reduce me to tears as I think about them in the coming days and weeks. To coin another song title, my time here has been 'simply the best'! And though this is goodbye to my time with you as a curate, I hope, and indeed am sure, that we will still be in contact in various ways (including a parish outing to Frinton in the summer!)

So, THANK YOU – for your love and support and encouragement during the last four years, to both Graham and myself, AND for my wonderful parting gifts … SO thoughtful and generous!! Words really can't express how thankful I am …. so just imagine a massive hug winging its way to you!

May our God, who loves you even more than I do, continue to wrap his arms of protection and love around you all, and bless you in abundance.

With my love always … Jane x
-------------------------------------------------------------------------------------------------------------------------------------------------------------
CALENDAR FOR JUNE 2021
* Tuesday 1st @10.00am St.Peter's open for private prayer until 5pm
* Wednesday 2nd @10.00am Zoom Morning Prayer
10.00 am St. Martin's open for private prayer until 5pm
* Saturday 5th @10.00am St. Peter's open for private prayer until 5 pm
* Sunday 6th @8.00am Communion in St. Martin's
10.30am One Big Family Service for All in St. Martin's
10.30am Zoom BCP Morning Prayer
12 noon St. Martin's open for private prayer until 5 pm
* Tuesday 8th @10.00am St. Peter's open for private prayer until 5 pm
* Wednesday @9.00am Zoom Morning Prayer
10.00am St. Martin's open for private prayer until 5 pm
* Saturday 12th @10.00am St. Peter's open for private prayer until 5 pm
* Sunday 13th 10.30am Communion in St Martin's
10.30am Zoom BCP Morning Prayer
12 noon St. Martin's open for private prayer until 5pm
* Tuesday 15th 10.00am St. Peter's open for private prayer until 5pm
* Wednesday 16th 10.00am Zoom Morning Prayer
10.00am St. Martin's open for private prayer until 5pm
* Saturday 19th @10.00am St. Peter's open for private prayer until 5pm
* Sunday 20th @8.00am Communion in St. Martin's
10.30am Morning Worship for All in St. Martin's
12 noon St. Martin's open for private prayer until 5pm
* Tuesday 22nd @10.00am St. Peter's open for private prayer until 5pm
* Wednesday 23rd @10.00am Zoom Morning Prayer
10.00 am St. Martin's open for private prayer until 5pm
* Saturday 26th @10.00am St. Peter's open for private prayer until 5pm
* Sunday 27th @10.30am Communion in St. Martin's
12 noon St. Martin's open for private prayer until 5pm
* Tuesday 29th @10.00am St. Peter's open for private prayer until 5pm
* Wednesday 30th @10.00am Zoom Morning Prayer
10.00 am St. Martin's open for private prayer until 5pm
----------------------------------------------------------------------------------------------------------------------------------------------------------------
Click Image

THE FOOD BANK IS OPEN ON THURSDAY MORNINGS BETWEEN 9.30 am & 12.30 pm IN THE CHURCH ROOMS, CASTLE STREET.

If you need a referral for the Food Bank, please contact the Rector, Revd. Noelle Taylor on 01277 362173